Welcome to the website!
To go straight to the Children's Bible songs >>> click here!
New children's songs for Christian kids of all ages - for you to use in Sunday School, Bible Clubs, Church meetings, VBS, School Assemblies and so on - for free!
Top Ten Songs
Thursday 26th March
To get to the songs, go to the jukebox
For each song, you can see the words, listen to the music (in full or backing-track form), and get the sheet music in Adobe PDF format.

Visit the STORE
CDs and Downloads
where you can DOWNLOAD MP3s or buy songs on CD.

Bible Themes
Bible Themes
has information about related Bible themes and passages.

Blog
Blog!
- yes, there's a blog!
Recent posts:
If you use CLICK Sunday School Material,
CLICK!
this page has info about songs for you.

Rockin'!
Some songs for grown ups...!
---
---
---
We're on

---
...make sure you "Like" us!
---
Here are those links again:
Home | Songs | Bible Themes | CDs & Downloads | Blog! | Extra Info | Rockin' | CLICK! | Cookie Policy | Links
Other MGBT Sites:
Song ideas for kids for Sunday School on sunday-school-songs.com
Information about Children's Bible Songs on childrensbiblesongs.net
Children's Songs for Harvest, Christmas and Easter on childrensbiblesongs.org
What are you looking for?
As well as being the title of the Easter CD, "We Sing Hosanna!" is a new Children's song about Palm Sunday.
As Jesus heads into Jerusalem on a donkey, lots of people have something to say about him, but do they understand who he really is? We know He's the King of Kings, so we sing Hosanna!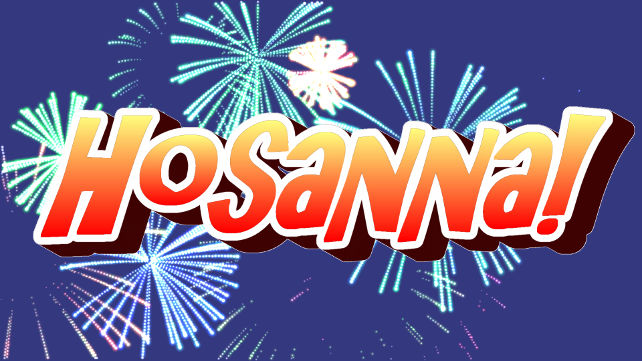 Watch the YouTube Video :: Listen on the Jukebox :: Get the MP3 download :: Get the Sheet Music :: Get it on CD :: Get the Printed Sheet Music Book
>>>Click here for more news >>>
---
What do you think of these songs? Please send me a message...!
---
Get Maynard's Groovy Bible Tunes on Seven Great CDs!
Get some CDs so that you can sing along wherever you are,
and enjoy praising Jesus and remembering how great he is in that familiar foot-stomping way!
Click Here for the CD Store
---
Children's Bible Songs, that you can sing in Children's worship, assemblies, Sunday School, Children's Church, midweek groups, bible clubs, backyard bible clubs, VBS, in the car, and of course in Church meetings!
And you can get a CD of the songs, with backing tracks as well - for your children's group to sing along to.
Get ready to sing along, feet tapping, to songs you'll never get out of your head,
about great Bible & Gospel themes.
Christian Children's songs, Children's Bible songs, Children's Praise and Worship songs,
Sunday School Songs, Children's Church songs, Kid's ministry songs, VBS songs -
call them whatever you want, I call them
Maynard's Groovy Bible Tunes!
Home | Songs | Bible Themes | CDs & Downloads | Blog! | Extra Info | Rockin' | CLICK! | Cookie Policy | Links
This website, including all text, images, sounds, and layout, is copyright © 2015 David Heath-Whyte.
For terms and conditions of use, please click here.